26/04/2016
Free Youth Policy Dictionary
Several Serbian institutions developed the first Youth Policy Dictionary. The Dictionary defines a number of different terms in the field of youth policy. It is available in Serbian and thus accessible to all B/C/S/M speakers in the region, and can be freely downloaded here.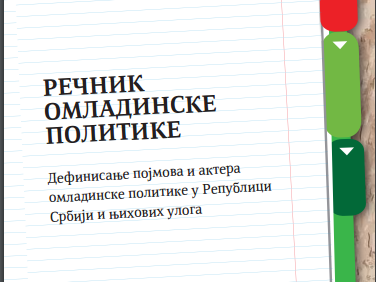 The aim of this dictionary is to define relevant terms in the field of youth policy, as well as actors in the field and their roles and positions. The dictionary in particular purports to contribute to regulating relations between the relevant Ministry and civil sector youth organisations by offering standardized and unified terms. The dictionary also defines the roles of international partners and actors relevant for this field, with the intention to represent this filed on the European level. The Dictionary has been compiled with contribution from various youth policy actors, public institutions representatives, youth organisations etc., by providing their comments, ideas and suggestions within a wide process of consultations that followed the work on this Dictionary.
For more information in Serbian, please click here.